Description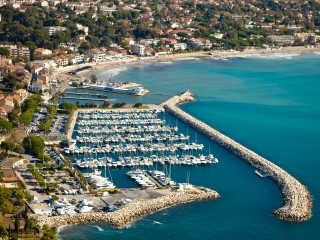 Sanary picturesque port city is still a charming coastal shelter and a small active fishing port. A micro-climate protects the town: it rarely rains. It bathes May to October, several beaches more welcoming than the other, which will delight lovers of fine golden sand that lovers of colored rock. The docks are very much alive and it is nice to eat a bouillabaisse or sip a pastis, very fresh.

General information
General information
Harbour Master: Mr Jean-Michel PREYNAT
Opening hours:
1 july to 31 August : all days at 07h00/19h30|1 april to 30 septembre : 09h00/12h00 and 14h00/18h00|1 october to 31 march : 08h00/12h00

Security
Maritime affairs (tel): +33 494 294 713
Police (tel): +33 494 028 115
Rescue (tel): +33 494 617 110
VHF Canal: 9

Berthing, mooring & anchoring
Maximum Draught: 2.50m
Maximum Length: 26.00m
Number of basins: 1
Open water docks: 130
Open water pontoons: 500

Location & approach
Distance of neighboring ports
Bandol: 3M
Les Embiez: 2,2M
Porquerolles: 22M

Approach (day and night)
Situation
43°06',9 N
005°48,1 E
Cartes SHOM 6610-7406
Navicarte 504
Approche
Laisser sur tribord l'Ile du "Grand Rouveau" (Fb.2oc.-s.15M) parer la bouée cardinale Nord "La casserlane" puis venir faire route au Nord-Nord-Est vers Sanary-sur-Mer.
La passe d'entrée est large et claire de toute obstruction (tirant d'eau 2,80 à 3 mètres) Elle est balisée par le phare rouge de la jetée Sud (F.ér.4s) et une bouée Est Verte.
Les navires à fort tirant d'eau doivent passer sur la partie gauche de la passe dans le sens entrant.


Navigation aid
Voir instructions nautiques D22
SHOM map: 6610|7406
Navicarte: 504
Naviguer et séjourner dans le port
Naviguer
Réservations possibles 24h à l'avance par téléphone : +33(0) 494740295 pour deux nuités maximum entre le premier juillet et le trente et un août.

Arrivée à 14h au plutôt et départ au plus tard 12h le lendemain.
Environmental management

Bilge pumps
yes

Careening facility
yes

Wastewater suction
yes

Selective sorting
yes

Waste disposal point
yes
Collected wastes

Solid and liquid toxics
yes
Batteries
yes

Boat batteries
yes

Metals
yes

Plastic Bottles
yes

Glass
yes

Uncontaminated paper & cardboard
yes

Distress rockets
yes

Waste oil, filters
yes

Large volumes and non-toxic waste
yes
Technical areas
Travelift: yes
Travelift max. weight: 8t
Crane max. weight: 0,0t
On port handling: yes
Out port handling: no
Wedge launch: yes
Storage ashore: no

Refueling station
Gasoil: yes
SP98: yes
SP95: no
GPL: no
Opening hours:
Saison: 8h15|12h00 / 14h00|19h00

Hors Saison: 14h30|16h30

Services to boaters
Wi-Fi access: no
Medical facilities: yes
Victualling: yes
Marine hardware: yes
Accommodation: yes
Car Park: yes
Showers: yes
WC: yes
Laundries: yes
Disabled access: no
Washing-up basin: yes
Electricity on pontoons: yes
Electricity on docks: yes
Water on pontoons: yes
Water on docks: yes

Regulations
» Réglement de ploci de port